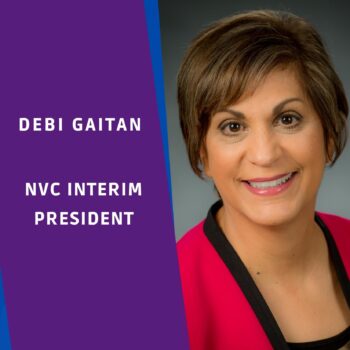 Dear NVC Faculty and Staff,
Our first week of May will be busy with NVC Presidential Finalists Forums. I look forward to meeting each of the finalists and getting to know them. The NVC spirit permeates every aspect of what we do for our students, our community and each other, and I can't wait for the finalists to see how NVC Creates Opportunities for Success! 
Please join me by attending each of the Forums in person, as much as possible, or if necessary, via Zoom. I appreciate your forthcoming participation and feedback.
The Presidential Finalists Forums will be held in the Innovation Center each day Mon., May 1 – Thurs., May 4th from 9:45 until 10:45 a.m. Let's give each of the Presidential Finalists an NVC Wildcat Welcome and help them fall in love with NVC! 
I want to take this opportunity to thank the NVC Advisory Search Team Committee (listed at this page) for their meticulous effort in reviewing each application, evaluating and comparing candidate experiences to NVC's needs and determining finalists that were forwarded to Alamo Colleges Chancellor Dr. Mike Flores. The team has been working on this since February, often putting other priorities on hold to select our future leader. I thank each and every one of them and I thank YOU for picking up where they left off. This is undoubtedly an NVC effort. Without you, none of this would be possible.
Another group that deserves recognition is the NVC Presidential Planning Team for working on the logistics of the visits that include booking and reservations, agendas, itineraries, catering, room reservations, transportation, and many other items. Please join me in thanking Felix Salinas, Robert Ayala, Elladean Moreno, Gloria Jimenez and Minerva Muñiz.
Thank you all for your NVC Wildcat Spirit of community, synergy, diversity, and joy!