While it's hard to capture every story, we hope to periodically share in this space some of the major accomplishments or projects that are taking place. Members of the executive team will write about important topics that they feel NVC employees should be made aware of.
Let us know about the positive things your area is doing to help students or improve processes by contacting myself or NVC Marketing & Strategic Communications.
– Dr. Ric Baser, NVC President
_________________________________________________

Russell Frohardt, Ph.D.
NVC Dean for Academic Success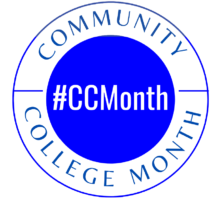 We have a lot to celebrate during Community College Month (April is #CCMonth). As I write this article, we are in the middle of Fiesta San Antonio and the calendar is packed full of events where we can share food, music, fellowship. It is wonderful to see friends and colleagues in person again after so many months of caution due to the COVID-19 pandemic.
Another cause for celebration is the completion of the Cedar Elm STEM Center (CESC) on our beautiful campus. When the architects at Overland shared their renderings of the building, then we announced the ground-breaking in September of 2020, the idea of moving in and serving students seemed so distant to me.
Whenever I would come to campus between that announcement and now, I would walk the perimeter of the building and snap a few photos to note the progress, so as I approached the steps to enter the facility for the first time for fume hood training and a tour with a few of the Natural and Physical Sciences faculty and staff I paused for a selfie to remember the moment.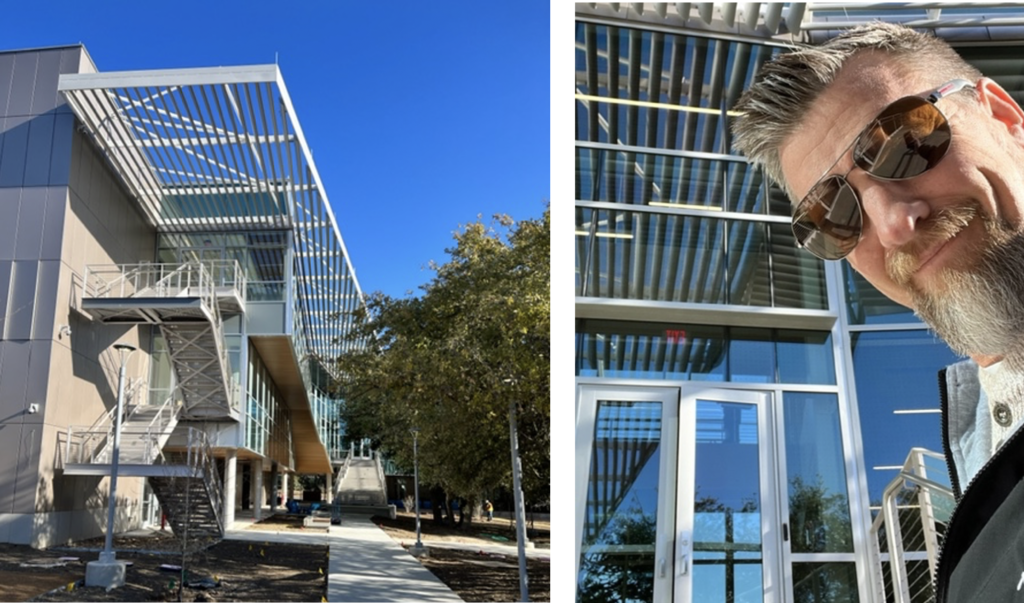 The amenities are fantastic, and I am so excited for our chemistry, physics, mathematics, and engineering faculty and staff to start moving in very soon. We are scheduling classes and labs in the building beginning in the fall of 2022, and we are looking forward to welcoming our community to our newest building.
Another cause for celebration is the incredible success that NVC has had recently in securing grant funding to support STEM students. In addition to the incredibly successful Title V grant that was recently completed (Project Math Paths) and ongoing Title V (Community Math), TALC, and CIMA grants, NVC has partnered with the community and other colleges and universities to secure funding that advances STEM fields and supports students in their pursuit of degrees, and ultimately careers, in the sciences, technology, engineering, and mathematics.
PLUS+STEM Project
Prakash Nair, Claudia Verdin, and Thomas Pressly
The PLUS+STEM Project serves students through workshops, supplemental instruction, paid research internships with stipends of up to $4,200, advanced STEM equipment, mentoring, symposiums, forums, mental health support, and high school outreach.
The project will also work with local four-year institutions of higher education to enhance STEM articulation agreements, to help create a smoother transfer process for NVC STEM students seeking to advance their educational careers.
Project FUERTE: Fostering Undergraduate Education, Retention and Transfer Environments
Juan Ocampo (St. Mary's University), Thomas Pressly, Mary Zocchi
The NSF's Improving Undergraduate STEM Education: Hispanic-Serving Institutions (HSI) Program grant awarded to St. Mary's will help implement Project FUERTE. The purpose of the grant is to increase the Latinx STEM field transfer to and graduation rate from St. Mary's University.
National Science Foundation Geology Grant
Dustin Smyth
NVC will partner under UTSA in a National Science Foundation grant targeted to create more awareness of geology fields and careers, and a make a smoother transfer process for NVC's students wishing to pursue geology studies at UTSA.
Please join me in congratulating our faculty and staff on their successes and celebrating and all of our recent accomplishments. Good luck finishing up the academic year. We will see you at graduation.