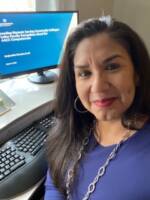 Janie Scott, Northwest Vista College's director of Strategic Initiatives, successfully defended her dissertation on March 9.
Janie is enrolled in Old Dominion University's Community College Leadership Ph.D. program. Her dissertation was titled, "Leading Hispanic Serving Community Colleges: Latinx Faculty Perceptions About the AACC Competencies."
Her committee members included Dr. Mitchell R. Williams (Chair), Dr. David Ayers, and Dr. Shana Pribesh. Congratulations, Dr. Scott!