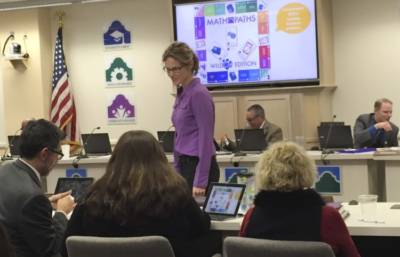 Heidi Hunt-Ruiz presented the Northwest Visa College Math Path game to the Alamo Colleges Board of Trustees on Dec 13.
NVC's Math Path advising model has been recognized as a state model by the Charles A. Dana Center at the University of Texas at Austin, a national leader in Math Pathways Projects.
NVC implemented the Math Path program in January 2016. To read more about it go here.
The project was development to help students, faculty and college employees figure out which math class is better suited for a student since not all degree programs require rigorous math. The NVC Math faculty developed a math tree, games and informational flyers for this initiative. See them here.