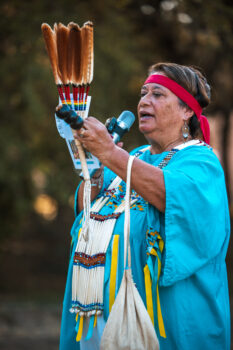 Did you miss NVC's Convocation this year? Besides seeing a nearly full Palmetto theater filled with faculty and staff, this year's event started off with a Land Healing & Blessing from the Tehuan Band of Mission Indians of San Antonio.
After the performance, Dr. Vanessa Sansone of UTSA was the featured speaker. She talked about how NVC can do more to make the campus welcoming for Latino students, especially since NVC is designated a Hispanic Serving Institution and more than half of our student population is Hispanic.
The NVC Vice Presidents – Debi Gaitan, Dr. Daniel Powell, and Erin Sherman also provided updates on the state of the college, accreditation, and building improvements.
To see the Land Blessing, go here.
To see the Convocation Pre-Show, go here
To see the PowerPoint from the Convocation, go here.
To see the Employee Milestone pictures, go here.