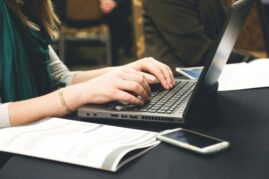 The Writing Across the Curriculum Lab – now called the Multidisciplinary Writing Center (MWC) – has a new coordinator Kathryn "Kate" Fischer. She recently worked in the WAC Lab as a tutor since April of 2019. MWC is still part of the national Writing Across the Curriculum Initiative.
Before 2019, Kate worked at UTSA as first a Life and Health Sciences academic advisor, and then a teacher certification specialist. She helped run the Centers' orientations, promoted the programs at events, and was the staff advisor for the Pre-Physician's Assistant Society.
She previously worked at Northwest Vista from 2010-12, as both a WAC tutor and an adjunct for history and SDEV. Kate also served on the WAC Committee and participated in the annual assessment.
Kate graduated from UTSA in 2007 with a Bachelor of Arts in History and a minor in Russian language; her degree included a study abroad in Moscow and St. Petersburg. She then completed her Master of Arts in Early Modern Studies in late 2008 at the University of Aberdeen, Scotland. She is currently finishing her Master of Arts in Global Affairs from UTSA. Her academic areas of specialty are Russian history, Russian foreign policy, and US foreign policy to Russia regarding the former Soviet states. She has been researching the US-Russia-Ukraine dynamic for over three years.
Kate grew up just north of San Antonio on a small cattle ranch. Both of her parents were in the medical field but they ran the ranch as a small business and she hopes to buy some land to do something similar in the future. Kate has also lived in Russia, Scotland, and North Texas. She currently lives in San Antonio and she says she "has too many cats."
Kate said, "The Multidisciplinary Writing Center is a Writing Across the Curriculum Initiative serving Alamo Colleges students, faculty, and the community through tutoring in writing skills, critical thinking, and developing writing pedagogy for classes outside of the English department. We're here to help and actively participate in NVC's mission."
To learn more about MWC, read this article.