Kevin Wear was one of two survivors in an explosive attack on his vehicle while serving in the military. Medical staff told him he wouldn't be able to walk, talk or even know his own name. He proudly walked across the Northwest Vista College commencement stage on May 13 with honors. Sylvia Saldana, a first generation college student, already carried a full load when she went back to college. With two young daughters, a husband and a job, she also had to find time to attend NVC. Kevin and Sylvia say what carried them to the finish line was being persistent and not giving into fear.
Kevin and Sylvia represent the 794 students who attended the graduation ceremony, which made it the largest ceremony in NVC history. It's expected this year's number of graduates could surpass last year's number. At the cap and gown pick up prior to ceremony, 905 students scooped up their purple gowns. As of May 16, there are a total potential awards of 1,080 for spring 2019, compared to 889 awards granted for the previous spring. Final numbers won't be available until all grades are in.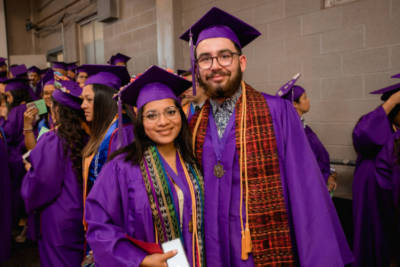 This year's graduation provided a few different surprises for students. For instance thanks to new MarchingOrder software, it allowed mom Alexis Brouillete and daughter Rebecca Dolan – both graduates – to sit side-by-side instead of having to line up by degrees or in alphabetical order. Also instead of a balloon drop at the end of the ceremony, NVC turned the Freeman Coliseum into a purple glow stick party with the audience cheering on graduates by lighting up their phones.
Also for the first time, NVC had two commencement speakers – Janice Castillo, a 2013 NVC graduate, and her son Nathaniel Castillo Rodriguez, a current NVC student and tutor in the NVC Math Lab.
Janice dropped out of high school and at the age of 17 was pregnant with her son, Nathaniel. She had a stroke at the age of 22 and her son and her were on the path to homelessness.
"But now, here I am today, with a bachelor's degree speaking to you, telling you that you can achieve any goals. It is never impossible to accomplish what you want; however, it is not easy. At the age of 27, I enrolled in college at the Alamo Colleges District, and so did my son. He registered for the robotics camp at the age of 8."
Nathaniel said he remembers being homeless and growing up in a cycle of high school dropouts, incarceration and drugs. He said his mom chose to break that cycle.
"I come from a place with chain link fences, not white picket ones. My mom, a pregnant high school dropout, and my dad, a college dropout junkie, met at a trap house. Eventually I was born. However, the doctors noticed that I had a deformity. The doctor had said I would not do well academically in school, have an enormous speech impediment, also attract a lot of bullying. I could barely walk or speak and it seemed that life had dealt me terrible cards."
In spite of his family background, Nathaniel chose NVC because he said it helped his mom turn a family cycle of heartbreak into success. In the near future, Nathaniel is hoping to attend Georgetown University and eventually pursue a law degree.
Like Nathaniel, Janice, Kevin, Sylvia, Alexis and Rebecca there were countless stories of students overcoming obstacles to earn their associate degrees. Thanks to the persistence and hard work of these students, San Antonio has another 1,000 residents who are now graduates of a community college.