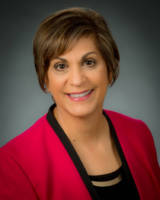 Recently, Debi Gaitan, Northwest Vista College Vice President for Student Success, was one of two guest panelists for a Ruffalo Noel Levitz' Strategic Enrollment Management webinar. Chancellor Dr. Ryan Gower of Illinois Eastern Community College was also a panelist.
Below is a description of the webinar. To watch it, go here. 
Colleges and universities are facing increasing pressures to adapt in a turbulent competitive environment. We can no longer assume that enrollment growth will balance the budget. Location, reputation, student experience and surrounding demography all influence which institutions will continue to grow, necessitating the development of a sustainable approach to combat pressing challenges.
Strategic enrollment planning culminates with a finely tuned, data-informed, five-year strategic enrollment plan that addresses pressing challenges such as:
Adapting recruitment and retention strategies to rapid market changes
Responding to changing demographics and supporting diversity
Aligning academic and co-curricular trends with institutional capacity
Preparing graduates for changing demands of the modern economy and workforce
Responding to increasing calls for accountability
Managing student and campus revenue needs as costs outpace federal and state support for higher education
Maximizing net tuition strategies
To watch the webinar, go here.